News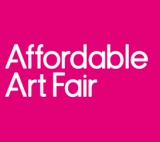 Affordable Art Fair NYC returns to the Metropolitan Pavilion in March, showcasing original contemporary artworks ranging between $100 to $10,000. Welcoming local, national and international exhibitors, our spectacular Spring edition will be sure to put a spring in your step!
Read more >>
Victoria explains her artwork as follows: "One walks to the favourite spot on the lake, but it is covered with litter. We inhale pollution instead of a flower fragrance. My new work is an outlook at the apocalyptic transformation of the world which surrounds us; creation of ecological crashes of the planet; shout in the cold infinity of cosmos. It is an attempt to understand and help humans by influencing them through the language of art. Maybe it will prevent desire to destruct and destroy life around us…".
Read more >>
The embassy of the Republic of Belarus, RE Cultural Foundation and Gallery Bell *Arte at the Kurhuis invite you to the Grand opening of the exposition of the Balarussian artist Victoria Kovalenchikova in collaboration with Dutch artists.
Read more >>