News
​In its 30th year, Art Miami maintains a preeminent position in America's modern and contemporary art fair market and is g​lobally recognized as a primary destination for the acquisition of the most important works from the 20th and 21st centuries​.
Read more >>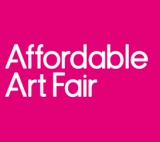 Affordable Art Fair Amsterdam returns to de Kromhouthal, 31 October - 3 November 2019. Browse works by fresh, contemporary artists exhibited by local, national and international galleries. Packed with 1000s of affordable pieces all priced at €7,500 or under, there is something to suit every taste and budget.
Read more >>
Texas Contemporary, Houston's leading contemporary and modern art fair, brings top galleries to the area's discerning collector base. Now going into its eighth edition, Texas Contemporary 2019 will feature 75 exhibitors and an innovative program of special projects and public installations.
Read more >>