News
​In its 30th year, Art Miami maintains a preeminent position in America's modern and contemporary art fair market and is g​lobally recognized as a primary destination for the acquisition of the most important works from the 20th and 21st centuries​.
Read more >>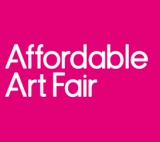 Affordable Art Fair Amsterdam returns to de Kromhouthal, 31 October - 3 November 2019. Browse works by fresh, contemporary artists exhibited by local, national and international galleries. Packed with 1000s of affordable pieces all priced at €7,500 or under, there is something to suit every taste and budget.
Read more >>
The embassy of the Republic of Belarus, RE Cultural Foundation and Gallery Bell *Arte at the Kurhuis invite you to the Grand opening of the exposition of the Balarussian artist Victoria Kovalenchikova in collaboration with Dutch artists.
Read more >>